How can young companies and the public sector work together to cultivate blockchain innovation and adoption?
Last week, iov42 CEO Dominic von Trotha Taylor had the exciting opportunity to represent iov42 at the 2nd annual Wales Tech Week. 
The fully virtual, week-long event covered a wide range of topics, from decarbonisation to agritech to non-fungible tokens (NFTs). And though the conference was inspired by the unique position Wales occupies in the bigger technological discourse, speakers from across Europe contributed to the chock-full agenda. 
Dominic was invited to join the panel, "Blockchain: Bridging the Irish Sea," which was hosted by CS connected, a UK-based hub that convenes organisations involved in compound semiconductor related activities. Since semiconductors are a key enabling technology for numerous industries, such as healthcare technologies, safety & security, big data and the Internet of Things (IoT), and energy efficiency (generation and consumption), it's easy to imagine why CS connected would be interested in starting a discussion around blockchain, a potentially complementary technology for accelerating innovation. 
The panel for "Blockchain: Bridging the Irish Sea" featured a diverse panel of experts. Kathryn Hallet from the Welsh government represented the public sector, while Edwin Ward (WX2 Advertising), Gavin Powell (QPQ), and Sorcha Mulligan (SMEChain), along with iov42's Dominic, represented the private sector. The panel was moderated by Cerian Jones, a European patent attorney for software and computing-related tech.  Bringing in perspectives from different sectors, industries, and geographies, the panelists were unified by their familiarity with cross-border engagement and, of course, their shared passion for blockchain technology. 
The panelists dove into an open discussion around the important question, "how do blockchain enterprises and organisations connect with, engage, and have meaningful conversations with government bodies in order to drive blockchain innovation forward?"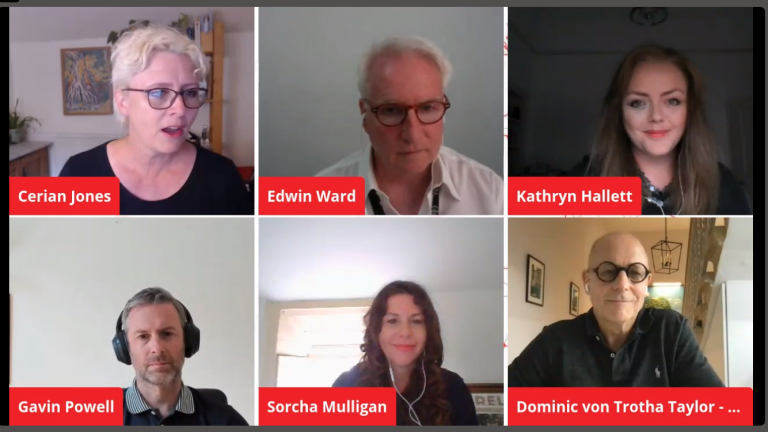 "If [governments] can be seen out there to be more involved [with blockchain companies], then the reputation of the technology starts to go up, particularly in the context of enterprise-based solutions…If that reputation goes up, then the investor community [will be] more supportive…then there will be more companies like [iov42], embracing the technology, promoting themselves to government, building proofs of concept, creating proof of value, and then the virtuous circle where [blockchain] technology becomes integrated with everything we do will be initiated."

— Dominic von Trotha Taylor, Wales Tech Week
The main takeaways from the event include: 
Engaging and collaborating with the public sector is about more than just influencing conversations around regulation. It's also about pushing for policies and initiatives that enable innovation and getting larger government buy-in to blockchain and its potential value. 

We don't need to wait for government action to begin driving policy change. There are great examples of the people pushing for change, such as the recent referendums around health care access. 

Blockchain is often faced with skepticism or even complete dismissal because of crypto "baggage." It has been difficult to change the discussion so far, because enterprise blockchain technology has only become commercially viable fairly recently. Now that the tech is maturing and commercialising, we need a rise of credible voices in the field to raise awareness, shape the discourse, and engage with the right parties.
When you or your organisation conduct research on blockchain, it's important to take note of the time of publication. Around 2017 – 2019, a lot of the important voices in business research and consulting were very dismissive of blockchain. More recently, these same outfits have done a backflip and are actively organising initiatives to foster blockchain innovation.
Conversations like this signal an important shift in the evolution of blockchain and other distributed ledger technologies and their growing acceptance in our increasingly digital world. The iov42 team looks forward to continuing  to contribute to this important discourse!  
When a recording of the panel session is made publicly available, it will be shared here. Check back soon!