'So what's all this about?'
A question we got asked over and over again last week at Innovation Zero*, and one we never got tired of answering. 
'We've designed our own consensus mechanism to help companies build trust through improved supply chain traceability.'
We were happy to see that attendees were keen to understand the difference between blockchain and our own purpose built Distributed Ledger Technology (DLT), as well as how we are helping organisations meet due diligence requirements brought about by existing and incoming regulations. 
This was all made possible as the event was filled to the brim with like-minded people who were also looking to see how emerging technology can help solve some of the world's biggest challenges – and they came from a range of industries, from standard bodies to large corporations, family owned importers, to academia.
Here, we were able to brainstorm how our technology could help solve some of their problems, as well as give insight into our own journey, our product roadmap, and some of the clients and partners we are lucky to work with.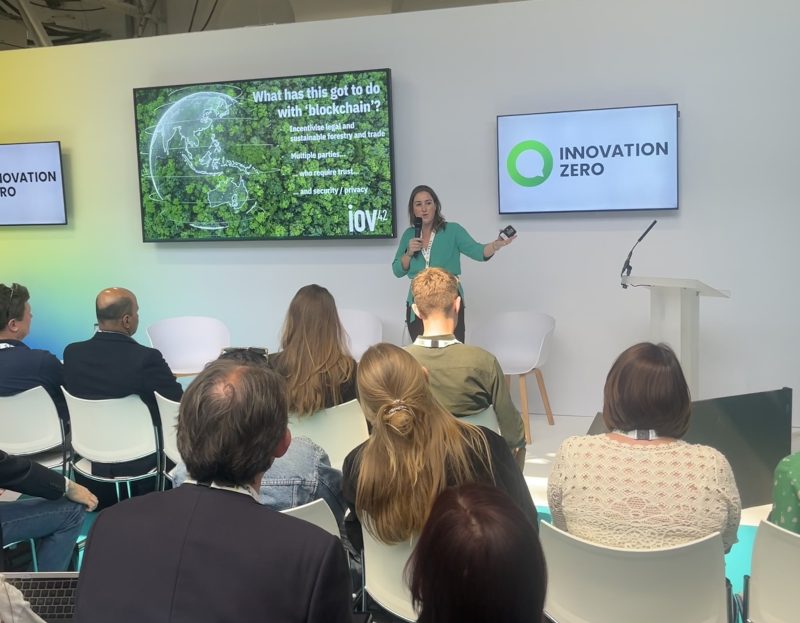 We attended lots of insightful talks (including one by our own Head of Market Development, Anna Roberts), to really get a feel for what is being done in this space to help organisations achieve net zero targets.
Anna addressed the negative connotations of blockchain technology and explained how our technology works in the opposite direction, looking to build trust, rather than break it, and help to enforce regulations, rather than work around them. She also got asked some great questions which gave us further opportunity to clarify:
Are we competing with certifiers, or working with them?

We don't want to be a standard, nor are we certifiers, we work with certification bodies who use this type of technology to make their certification and audit process a lot more efficient. Certifiers and verifiers are a critical part of our ecosystem as a third party endorsement.

How will people who work in small, rural farms access the technology?

Firstly, we don't try to add the complexity of our technology to their everyday life, we will try to work with the systems they have. But there are a lot of really good companies that work with farms and forests that provide the hardware to access the data they need, who we try to work with. 

Do we work in any other sectors other than forestry?

We're being funded by the Innovate UK team to apply what we've done for forestry and with timber to other commodities that sit under the UK Environment Act, such as rubber, coffee, soy, palm oil, cocoa, etc. We also work in the heavy metals industry, and help the British steel industry in particular with its decarbonisation strategy and helping them with digital product passports. The technology can certainly be applied to other industries.
For more frequently asked questions, check out our FAQ page here or get in touch to speak to a member of the team.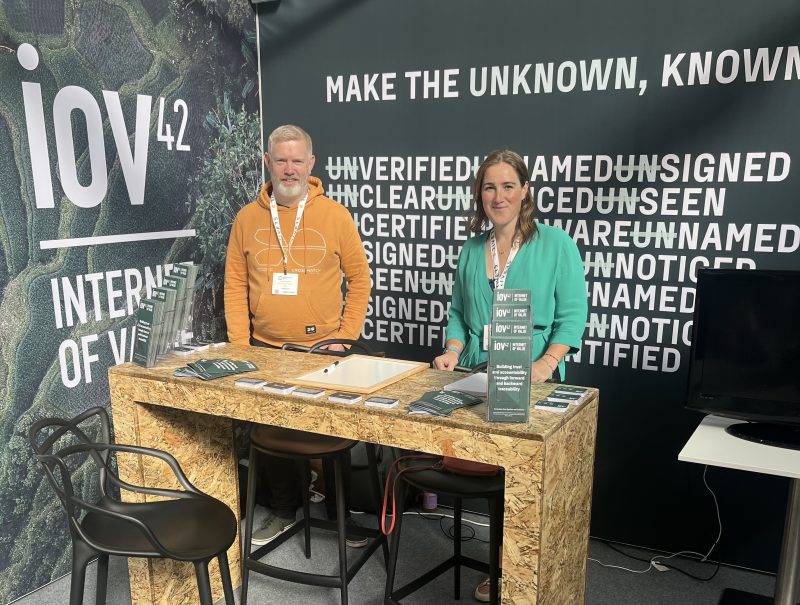 We're excited to attend again next year, but until then, we do have more events to come, and we would love to see you if you're in the area! You can find us at Innovation Alley during Manufacturing and Engineering week, held in Birmingham, UK, on the 7th of June. We will also be at the Preferred By Nature: Rising To The Challenge conference in Berlin, Germany, on the 14th of June. 
To keep up with our event appearances and see where we will be next follow us on our LinkedIn for updates: https://www.linkedin.com/company/iov42/
* Innovation Zero is a leading climate and clean-tech congress held in London, Olympia. With over 7000 executives, 200 exhibitors, and over 400 speakers, ranging from policy makers, funders, and scientists, to financers, innovators and leaders from both the public and private sectors.